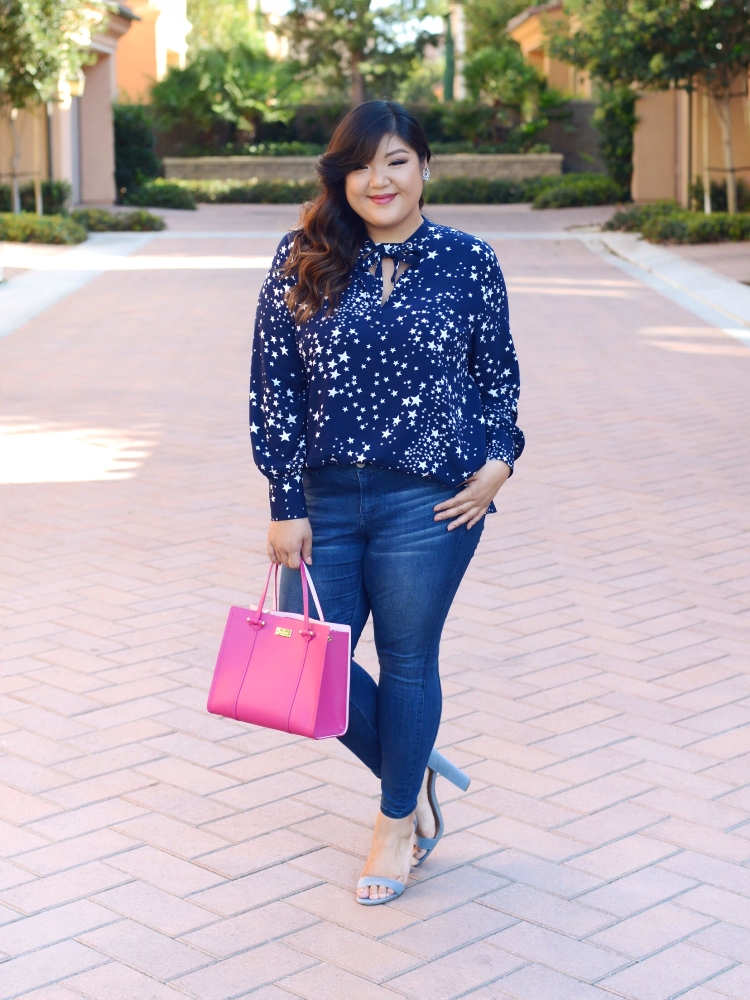 Starting week 2 of #OOTDOctober with this bright and starry look! One of my favorite things about blogging has been getting to meet like-minded blogger babes, and one of my faves, Rachel from Lovely in LA, is collaborating with Just Fab on a curated shop of all her favorites, including plus size items and wide width shoes! She has amazing taste, so I know you guys will love her picks!
I got to select a few of my favorites from her shop to style for you guys, and as soon as I laid eyes on this top, I knew I had to get it! It's really gorgeous quality, and I'm alllll about this star print! I love everything with stars, so I'm low-key hyped that it's trending for fall! I was planning on pairing this with these faux leather pants that are also from her shop, but it was 90 degrees out when I wanted to wear this top out. so leather pants were deeefinitely not an option, haha. In the meantime, I'll be pairing this top with skirts and skinny jeans (like these!). I love that you can easily pair this top with a blazer for work, or tuck it into a mini skirt for play. The print really adds an instant touch of cute to any outfit!
I decided to keep the look bright and cheerful with this hot pink mini tote from Kate Spade. I wore it a ton over the summer and I'm just not quite ready to put it away yet! It puts a smile on my face every time I look at it. A pair of barely there heels in a muted, dusty blue shade felt like the perfect matchy-but-not-too-matchy pairing with the rest of this look.
If you're new to Just Fab, signup is super easy–and if you mark "Rachel/Lovely in LA" as whom you found out about Just Fab from, you'll get your first item for $10!
Outfit Details: Just Fab x Lovely in LA Star Print Top :: similar skinny jeans :: similar heels :: similar bag :: similar earrings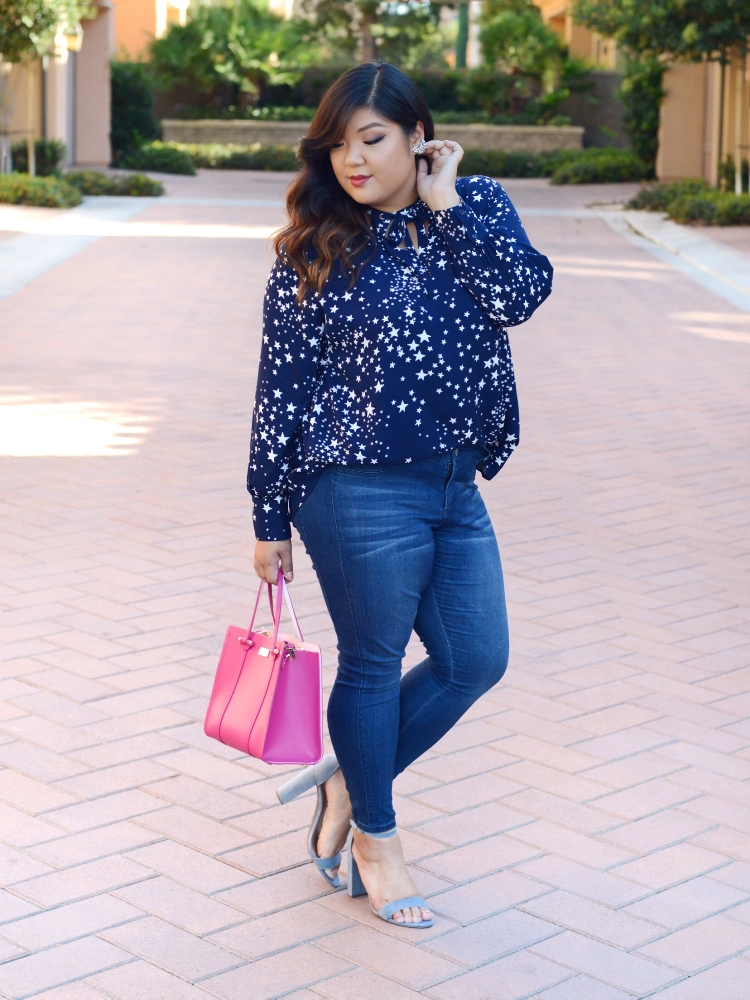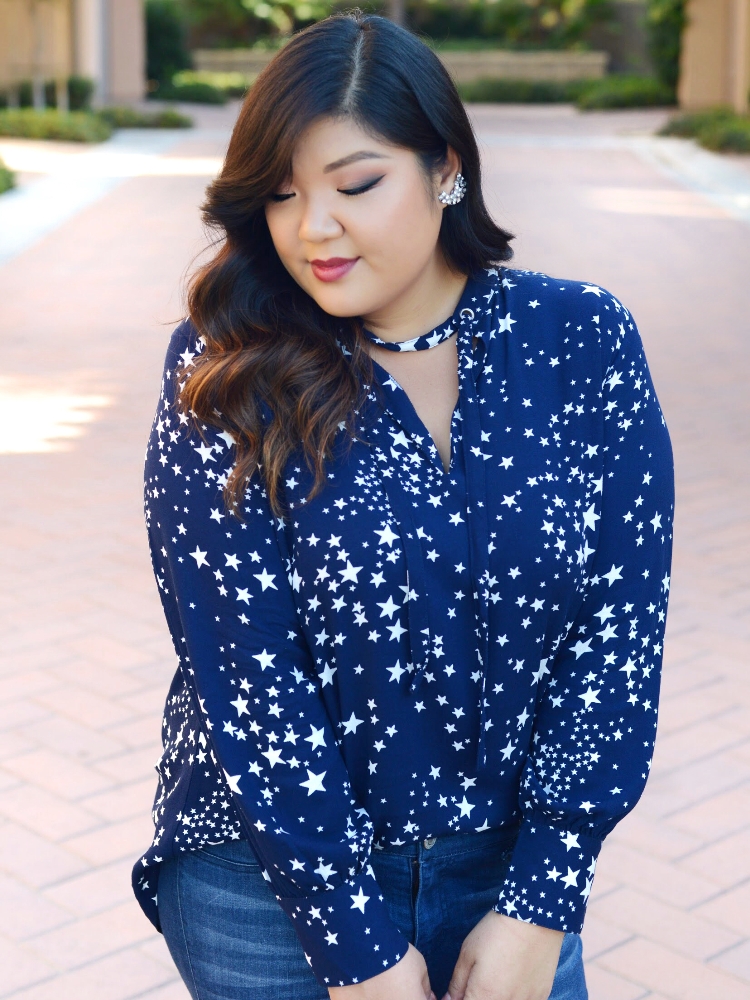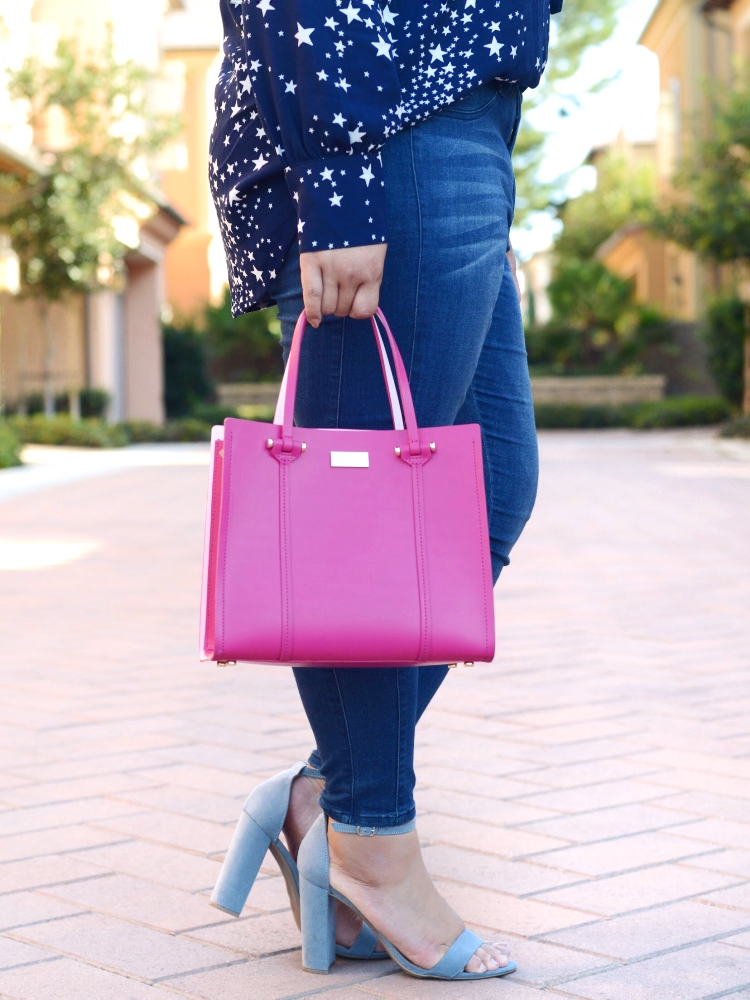 Outfit Details: Just Fab x Lovely in LA Star Print Top :: similar skinny jeans :: similar heels :: similar bag :: similar earrings