This post is sponsored by Refinery29 and Maurices. All statements and opinions are my own!
The holidays, for me, have always been a time for family and friends. We always have a huge family dinner with all of our closest friends–my dad does the bulk of the cooking, my mom makes salad and other veggies, my sister tries not to set herself on fire (love you, sis!), and I make the sides and dessert. There is always way too much food, lots of bad jokes, and amazing, hilarious memories.


I know not everyone is as lucky as I am to live close to their family, or be able to travel home for the holidays, which is why I'm all about this sweepstakes courtesy of Maurice's! From now through December 5th, 2014, you can enter to win $1,500 towards flying you or someone you love home for the holidays!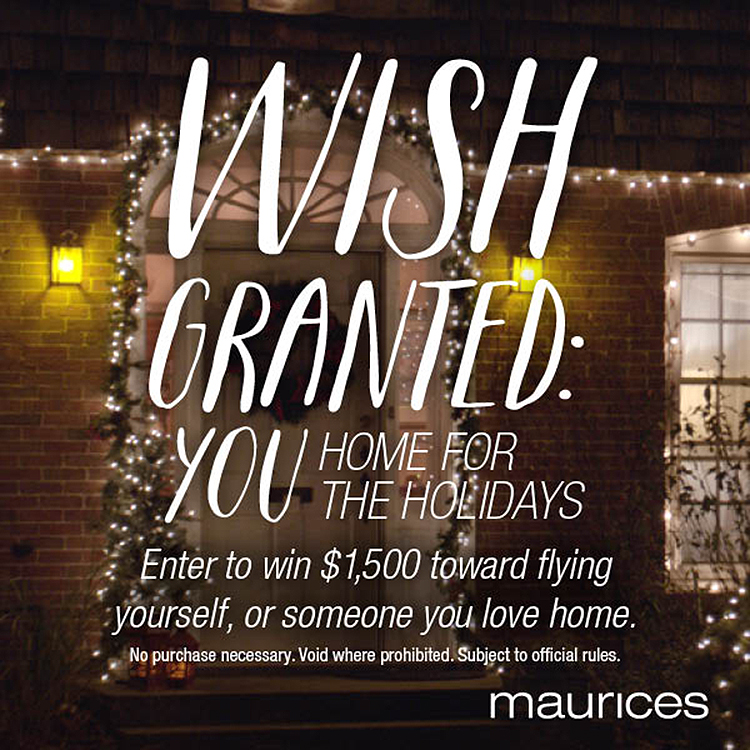 To enter, visit Maurice's here (just submit your name, email, and phone number and you're in!). Three lucky winners will win a roundtrip ticket anywhere in the US up to $1,500. No purchase necessary. Subject to official rules.

And just in case you're in the shopping spirit, below are a few items I have my eye on!