It's officially one week until Valentine's Day! If you're like me and life has gotten in the way of being the S.O. you usually try to be, below are some last minute gift ideas and fun, last minute date ideas! 😉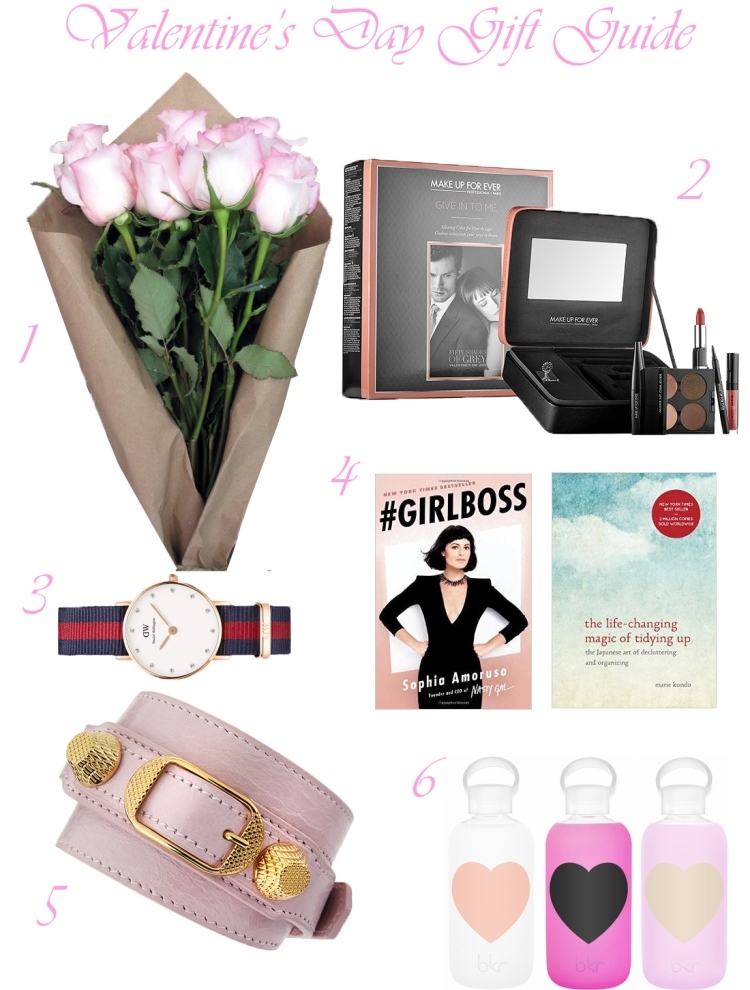 —– Gift Like a Pro —–


1. Flowers. They may be an obvious choice, but for good reason! They always bring a smile to people's faces, and these pretty pink blooms, along with 23 other bouquet options from The Bouqs are only $40, including shipping! If you'd like to go this route, be sure to order within the next day or two because delivery takes about a week!

2. Beauty Sets. Most girls love to get glammed up, and this sexy set from Make Up For Ever is perfectly V-day themed, drawing inspo from 50 Shades of Grey 😉 For the groom-happy guy in your life, you can always pick up something luxe for him, too! I kind of love this old school shaving kit from The Art of Shaving!

3. A Classic Timepiece. This chic and preppy watch is perfect for the girl on the go, and the rose gold hue and keeps this classic style from feeling old or stuffy!

4. Something from his or her reading list. I've been all about the life-changing magic of tidying up, and once I'm done with that, I'll be diving into #GIRLBOSS by Sophia Amoruso. Books are a great way to show that you know (and care about!) what your significant other is into.

5. Jewelry. Another classic gift idea, but the actual gift doesn't have to be the same old diamonds or heart necklaces (though I'm sure no one would complain about getting that either!). This Balenciaga cuff is chic and sweet for V-day.

6. Something to aid in their New Year's Resolutions. Did your S.O. vow to work out more this year? These totally cute glass and silicone water bottles make staying hydrated a breeze. Depending on his or her goals, travel guides, language classes or even a snazzy personalized planner would be a cute, thoughtful gift.
—– Date Ideas —–

1. Learn About Something Together. Whether it's a cooking class, or a tour of your local art or natural history museum, learning about something new together is a great way to bond. After all, smart is sexy!

2. Head outdoors. Most of us don't get to spend as much time outside as we'd like to. Get in touch with nature with a fun hike that ends with a gorgeous view, or, for the nature adverse, plan a fun picnic if the weather coorperates! For those of you buried in snow, you can head to the nearest slopes to get a day of skiing or snowboarding in! Afterwards, find a fireplace to warm up by with some hot cocoa–doesn't get more romantic than that!

3. Check out a new band. If you're both into similar music (or even if not!) you could have a lot of fun (or at least get a serious kick out of) seeing some new local bands. You might just find a new favorite!

4. Stay in. Doing nothing is so underrated. Piles of blankets, some favorite movies, and lots of snacks and drinks make for a great day in!
Let me know what you guys have planned! I love hearing about fun gift and date ideas! 🙂