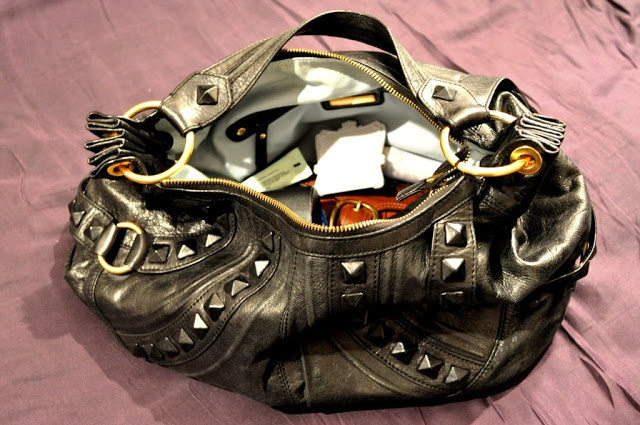 I don't really know what it is about sneaking a peak into someone else's bag…it's not like they're hiding baby toes or something in there–and yet, I always want to know! Is it just me? lol. Anyway, I was tagged to do a little bag voyeurism so here you go…
Isabella Fiore studded bag
[ :: Coach wallet :: iPhone :: keys with Marc by MJ keychains :: compact mirror :: ]
[ :: mini jewelry case for instant accessorizing <3 :: mini bvlgari perfume :: trusty umbrella :: ]
[ :: random peppermint from some dinner? :: foldable hairbrush (BEST FRIEND.) :: ]
[ :: chapstick/gloss :: Shiseido moisturizer :: eye drops :: pen :: bobby pins :: cheap sunnies in expensive case :: ]
[[ :: Nikon DSLR…not shown for obvious reasons! <3 :: ]]
This is why I love big roomy bags! I carry so much crap around with me, haha.
Hmmm…so if shopping counts as cardio, does having a heavy bag count as weight lifting? 😀
I won't tag you guys 'cause I'm horrible at responding to tags myself, but what do you guys haul around all day? Like I said, I'm curious! 😀
Yours, Etc.
CurvyGirlChic